UPCOMING EVENTS
MARCH 1 , 2017 | Chopin IN the City "Chopin World Sounds" | 6:30pm

Loyola University - Piper Hall

970 W Sheridan Rd., Chicago, IL 60613

​This event is the final day of the

Chopin in the City

Festival, which runs February 22 - March 1. I am honored to be joining the incomparable

Grazyna Auguscik

along with

Gabriel Datcu

,

Jim Gailloreto

,

Ani Gogova

,

Andrzej Sokolowski

,

Ian Maksin

,

Matt Ulery

,

楊惟 Yang Wei

, and the Quo Vadis Clarinets.

To offer support for this program, please visit:

https://www.gofundme.com/chopin-in-the-city-music-festival

Here's a sample of the Millennium Park Concert with

Grazyna Auguscik

in 2010 in celebration of Chopin's birthday.
---
Chicago Premiere d

irected by

Nick BowlingA Disappearing Number

is an exquisite, internationally acclaimed play about love, math, and how the past and future connect. In 1913, a clerk in rural India named Srinivasa Ramanujan sends a letter to famed mathematician G.H. Hardy, filled with astonishing mathematical theorems. In the present, a math professor and a businessman fall in love. Told in a whirlwind of vignettes spanning history and time, the play is a love letter to numbers, blending the beauty of everyday relationships with the mysticism of the cosmos. The original play was produced by

Complicité

originally conceived and directed by Simon McBurney

.
​TimeLine Theatre 615 W. Wellington Ave Chicago, IL 60657

---

CAST:

Kareem Bandealy

(

Al Cooper

),

Anish Jethmalani

(Aninda),

Anu Bhatt

(Surita),

Arya Daire

(Ramanujan's mother),

Dennis William Grimes

(Hardy),

Juliet Hart

(Ruth)

Siddhartha Rajan (Ramanujan)

Ronnie Malley and

Bob Garrett

(musicians)

​​

*Ronnie Malley and Bob Garrett will be alternating performances.
---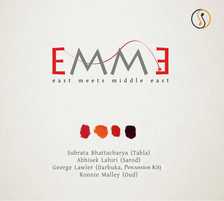 ---
---
RECENT VIDEOS
PROMOTIONAL VIDEO OF RONNIE MALLEY'S PROJECTS

---
FEATURE SEGMENT
FROM

ALMAJALLA ON ALHURRA TV
RONNIE MALLEY'S LIFE AND WORK IN THE ARTS
---
ZIRYAB, THE SONGBIRD OF ANDALUSIA (TRAILER)
An original play written and performed by Ronnie Malley.

A 75-minute musical narrative about the life of Ziryab, a 9th century musician and polymath,
who traveled from Baghdad to Muslim Spain and shifted the course of history.

---
Subscribe